---
Admission for Fashion design Career course – TRYTOON ACADEMY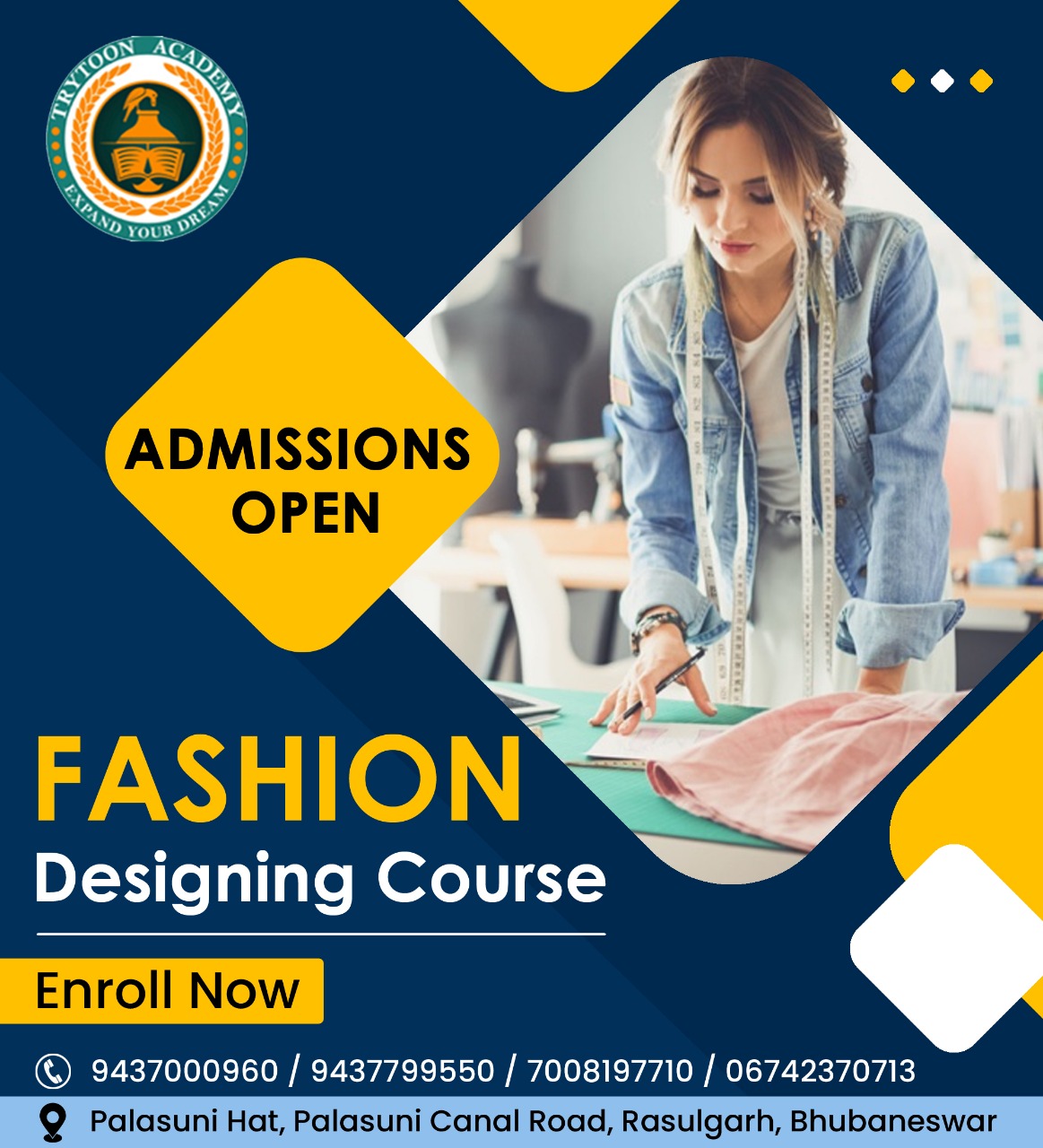 In the ever-evolving world of fashion, where innovation meets creativity, quality education plays a pivotal role in shaping promising careers. If you've been nurturing aspirations of entering the captivating realm of fashion design, your search ends at Trytoon Academy. Renowned as the premier fashion design institute in Bhubaneswar, Odisha, Trytoon Academy offers an unmatched opportunity to cultivate your creative instincts and transform your passion into a successful profession.
Discovering Trytoon Academy
Standing as a beacon of excellence and comprehensive growth in the field of fashion design, Trytoon Academy is ideally situated in Bhubaneswar, the capital city of Odisha. With a commitment to delivering quality education, the academy has solidified its reputation, making it the preferred choice for students aspiring to a comprehensive fashion education.
Affiliation with Utkal University of Culture
What sets Trytoon Academy apart is its prestigious affiliation with Utkal University of Culture. This affiliation underscores the academy's dedication to providing a contemporary curriculum intertwined with cultural nuances. This unique approach ensures that students not only grasp the latest fashion trends but also gain insights into historical and cultural factors that mold the industry.
Government Endorsement
The Government of Odisha's endorsement of Trytoon Academy adds another layer of credibility to its offerings. This recognition underscores the institution's commitment to excellence and its contribution to the educational landscape of the state. Prospective students can enroll with confidence, knowing they are becoming part of a program that adheres to the highest educational standards.
Programs Offered
Trytoon Academy presents a diverse range of fashion design courses catering to varying interests and aspirations:
Diploma in Fashion Design: This all-encompassing program introduces students to the essentials of fashion design, from sketching to garment construction.
Bachelor's in Fashion Design: Delving deeper, this program covers an array of subjects, including textile studies and fashion illustration, allowing students to specialize.
Master's in Fashion Design: Designed for those seeking advanced skills, the master's program explores intricate design concepts, fashion business management, and research methodologies.
Reasons to Choose Trytoon Academy
Experienced Faculty: The academy takes pride in its seasoned faculty, a team of industry experts who bridge the gap between theoretical learning and practical application.
Cutting-edge Infrastructure: Trytoon Academy's campus is equipped with modern design studios, sewing labs, and computer-aided design (CAD) facilities, offering students exposure to industry-relevant tools and technology.
Industry Collaborations: Collaborations with esteemed fashion houses, brands, and designers pave the way for workshops, seminars, and internships, providing students with real-world insights.
Placement Prospects: Trytoon Academy boasts a strong record of placing graduates in renowned fashion companies, courtesy of its extensive network of industry connections.
Admission Procedure
Trytoon Academy's admission process seeks passionate individuals keen on making a mark in the fashion industry. Expect a blend of entrance exams, portfolio evaluations, and interviews as part of the selection process.
Conclusion
Enrolling in a fashion design course at Trytoon Academy translates to an enriching journey, nurturing creativity, refining skills, and laying a robust foundation for a thriving career. With its affiliation to Utkal University of Culture and the endorsement by the Government of Odisha, Trytoon Academy proudly stands as the premier fashion design institute in Bhubaneswar, Odisha. If you're prepared to translate your fashion passion into a lifelong pursuit, Trytoon Academy eagerly welcomes you. Your voyage towards becoming a trailblazer in fashion design commences right here.