---
If you are staining in Bhubaneswar ,Odisha then After 12th or Graduation in any streams join Best ranking college for Fashion design,Interior design,Animation and Hotel Management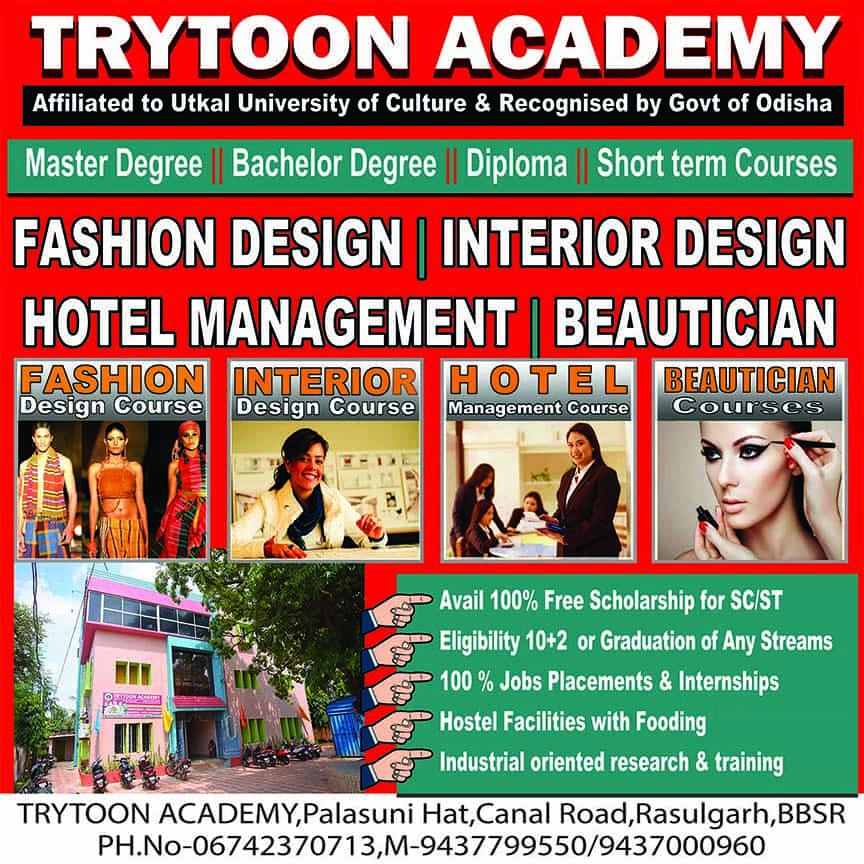 We have Affiliated to Utkal University of Culture & Recognised by Govt of Odisha,Authorized Training Institute [ORS/7395] from BSS Govt of India,Accredited by IAO Houston,TX77043,USA &ISO 9001:2008 Certified College since 2009 which our certification valid all over the world for higher education.
We offer Hotel Management, Animation Multimedia, Interior design and Fashion Design course for Bachelor Degree, Diploma, Advanced Diploma,Certificates courses for Long term Bachelor Degree Courses for [4 years] Diploma courses For [2 years] ,Advanced Diploma courses For [1 year] and Short term courses[6 months & 10 months duration] respectively.
Eligibility of Entire Course-Minimum 10+2
TRYTOON ACADEMY provide Government affiliated courses for Design and Management courses Bachelor Degree courses,Graduate Degree courses,Diploma courses  and Certificates short term courses in the field of Fashion design,Interior design,Animation VFX and Hotel Management job oriented program given with internship and placement in Odisha and other state of India. TRYTOON ACADEMY also provide professional like Photography course, Banking courses,office accounting course, Aviation and Hospitality course, Hospital Management course, Hotel and Tourism courses, Journalism media courses ,GIS courses etc. According to the demand and opportunities of professional courses now we have excellent course pattern and expertise training with practical exposes, now TRYTOON ACADEMY is top design and Hotel management college in Bhubaneswar, Odisha.
BACHELOR DEGREE COURSES
Bachelor in Interior design course
Bachelor Degree In Fashion design
Bachelor Degree In Hotel management
Duration-[4years]          Eligibility-10+2 Any stream
Affiliated to Utkal university of culture and recognized by Govt of Odisha
DIPLOMA COURSES
Diploma in Interior design course
Diploma in Fashion Design course
Diploma in Animation Film making
Diploma in Hotel management & Tourism
Diploma in Hotel management & Chattering         
Duration-[2years]          Eligibility-10+2 Any stream
SHORT TERM CERTIFICATE COURSES
Certificate Course in Interior design
Certificate Course in Fashion design
Certificate Course in Hotel Management
Certificate Course in Animation
Duration-[1 Month to 6 Months]  Eligibility-10+2 Any stream
SPECIALISATION SHORT TERM COURSES
Hotel Management Courses
Bachelor Degree In Hotel management
Diploma in Hotel Management & Tourism
Advanced Diploma courses for Hotel Management
Animation Multimedia
Animation and Film making
VFX and Film Composition
Graphic Design
Web Design
Architectural 3D Animation
Architecture and Interior design pre Visulisation
3D Animation and Multimedia
2D Animation and Multimedia
Multimedia and Animation Film Making
3D Studio Max Training
3D Maya training
Interior design & Architecture
Certification course for Interior design
Advanced Diploma in Interior design
Professional Diploma in Interior design
Degree course In Interior design
Architectural Pre visualization
Product design
Landscape Design
AutoCAD Training
Primavera Project Management
Revit Architecture / Revit Structure
Staad Pro Training
Catia/pro-e/solid work/Ansys training
Civil 3D training
GIS training
GPS Training
Fashion Design Course-
Bachelors Degree in Fashion Design
Certificate in Embroidery Design
Certificate in Indian Embroidery Design
Certificate in Garment Construction – Ladies Wear
Certificate in Garment Construction – Kids Wear
Certificate in Fabric Design
Certificate in Fashion CAD
Certificate in Fashion Visulisation.[Adobe Photoshop,Adobe Illustration]
Facilities Provide:-
Placement Support by our own placement cell .
Professional curriculum .
"Faculty with real time production experienced.
"Immediate and alert up gradation of training according to industry demands.
"Expert Guest lectures from industry experts."
"Guest lectures from industry experts.
Value added courses like job skills and Personal development.
Studio visit for students.
Practice LAB available 24×7.
"Students activities for creative orientation.
Seminar Workshop etc.
Student internship scheme.
Contact Information:-
Contact Name-Swadesh Muduli
Contact Address-Plot.No-3574/5486,Palasuni Hat,Palasuni canal Road,Rasulgarh,Bhubaneswar,Orissa,India.
Pin code-751010
Website-www.trytoonacademy.com
PH.No-0674-2370713,Mob.No-09437000960,Mob.No-9437112298
Recommended Posts
September 16, 2023