---
Do you Know about fashion design courses details ,Admission procedure ,courses fees, eligibility criteria and duration?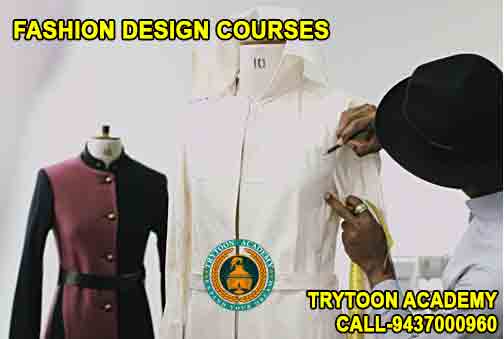 When we tell about basic need of human life is food, shelter and cloths, so cloths is most important need of human life,textiles and clothing are as old as human civilization it have demand ever in past ,present will demand on future. It emerged the day when Men and women started covering their body for functional use and with the passage of time it has emerged as an urge for enhancing individual identity. Development of personality has been the key reason for constant development and evolution of textile as fashion and need. Today Fashion design has widened its definition from Mottling to Fashion style, linen, garment and industrial Mottling. The Mention of needle and stitching machines became a boom ha Mottling industry which & identified today as fashion industry. Apparel design beyond fashion which deals not merely with ramp walk garment but consciously deals with functional clothing for everyday lifestyle.

Fashion Design as an indispensable statement that everyone makes respective of the fact whether one wants or not. But if one has the flair the statement becomes a trend. Our fashion design courses will help you to discover and explore the fast sense bidden within which is designed und UGC syllabus guideline. This courses are affiliated to Utkal university of culture and recognisd by govt of odisha. The fashion design course focuses on fashion designing concepts, processes and production. The aim to let students develop their individual styles and at the same time, be proficient enough to alter in accordance with the changing needs and trends of the fashion industry. Fashion illustration & fashion design aimed to learn various techniques and mediums of fashion designing on pager Fabric draping and garment study aimed to understand the charactertic of various kinds of fabric, body structures and garment and manufacturing techniques. Our Fashion design courses details are carefully designed to make a real difference to the student learning experience which balance between theoretical and practical depth education. The details of fashion design courses are designed for career fashion courses and short term fashion courses,where career fashion courses are long term courses those are 4 years Bachelor degree fashion design,3years bsc fashion design,2years master degree fashion design,2years diploma fashion design,1year advanced diploma fashion design.The syllabus for fashion design career courses are designed according to fashion industries requirement for that we provide practical internship training after complete if fashion design courses.The short term fashion design courses have designed 1month fashion courses,2months fashion courses,3months fashion courses,6months fashion courses and 1year fashion courses.Short term fashion design courses are designed for both unmarried and married females who want to make career in garment design and tailoring.
It is a fact, that although fashion design is often the start point of fashion education where students has know about fashion knowledge's and various skills of fashion industry.Fashion design is only a small part of the wider fashion industry because in India after agriculture sector garment industry is the second largest sector which have largest potential of jobs placements. Ultimately the fashion industry must benefit from the increasing fashion designer students to meet the bigger gap in garment sector. If you have a creative mind when it comes to clothing and attire, fashion designing can be a good career choice for you.There are various fashion designing courses that you can choose depending on your interests and education requirements.
To become successful fashion designer and to choose fashion design courses at Trytoon Academy ,it is very important to avail certain skill and potential which are Good Drawing Skills,Creativity,Artistic Thinking,Innovative Skills,Observation skills to look for Detailing,Competitiveness and Good Communication Skills.
Study GOVT Affiliated FASHION DESIGNING INSTITUTE at TRYTOON ACADEMY-CALL-9437000960 ranked best leading Fashion Design Institute in bhubaneswar,odisha, provide Govt Affiliated Master Degree in Fashion design course,Bachelor degree in Fashion design course,Diploma in Fashion designing course and short term certificate Fashion design Courses for the students have interested in making career in Fashion design education. TRYTOON ACADEMY affiliated by utkal university of culture and recognised by GOVT of Odisha
Fashion Designing Courses
[ngg src="galleries" ids="24″ display="basic_thumbnail" images_per_page="3″ slideshow_link_text="FASHION DESIGN COURSES"]
There are different types of fashion design courses provide by Trytoon Academy is one of the best ranking fashion design college in Bhubaneswar which affiliated to Utkal university of culture and recognised by government of Odisha.
Master Degree in Fashion Design : MFD [Postgraduate Course]
Two years Fashion Design course,Duration-2 Years and 4 Semester,Eligibility-Graduation in Any Stream
Four years Fashion design course,Duration-4 Years and 8 Semester,Eligibility-10+2 in Any Stream
Three years Fashion Design course,Duration-3 Years and 6 Semester,Eligibility-10+2 in Any Stream
Two years Fashion design course,Duration-2 Years and 4 Semester,Eligibility-10+2 or Graduation in Any Stream
One year Fashion design course,Duration-1 Year and 3 Modules,Eligibility-10th or above in Any Stream
Short term Fashion design courses,Duration-1 Month to 6 Months,Eligibility-10th or above in Any Stream
APPLY ONLINE FOR FASHION DESIGN COURSE
Fashion Designing Job Opportunities
The fashion industry of Indian caters to the clothing needs of billions of people. Being the second-largest populated country in the world, India has a good demand for clothes and fashion apparels. Therefore, there is a need for fashion designers in the industry who can come up with innovative designs for fashion-savvy people.
If you really have the talent for designing, there are uncountable jobs for you in the field. Here is the list of popular careers that students take up after completing the fashion designing course:
Fashion Designer

Fashion Show Organisers

Technical Designer

Fashion Consultant

Fashion Concept Manager

Fashion Marketer

Quality Controller

Footwear Designer

Fashion Coordinator

Costume Designer
Fashion Designing Top Recruiters
Fresh graduates can start their careers by working with big fashion houses, brands and designers to gain experience. Here are some of the top recruiters that heir graduates:
Shoppers Stop

Raymonds

Pantaloon

Levis

Proline

Snapdeal

Sabyasachi Mukherjee

Rohit Bal