---
Expert talk by Ar.Ankan Basa on Design Professionalism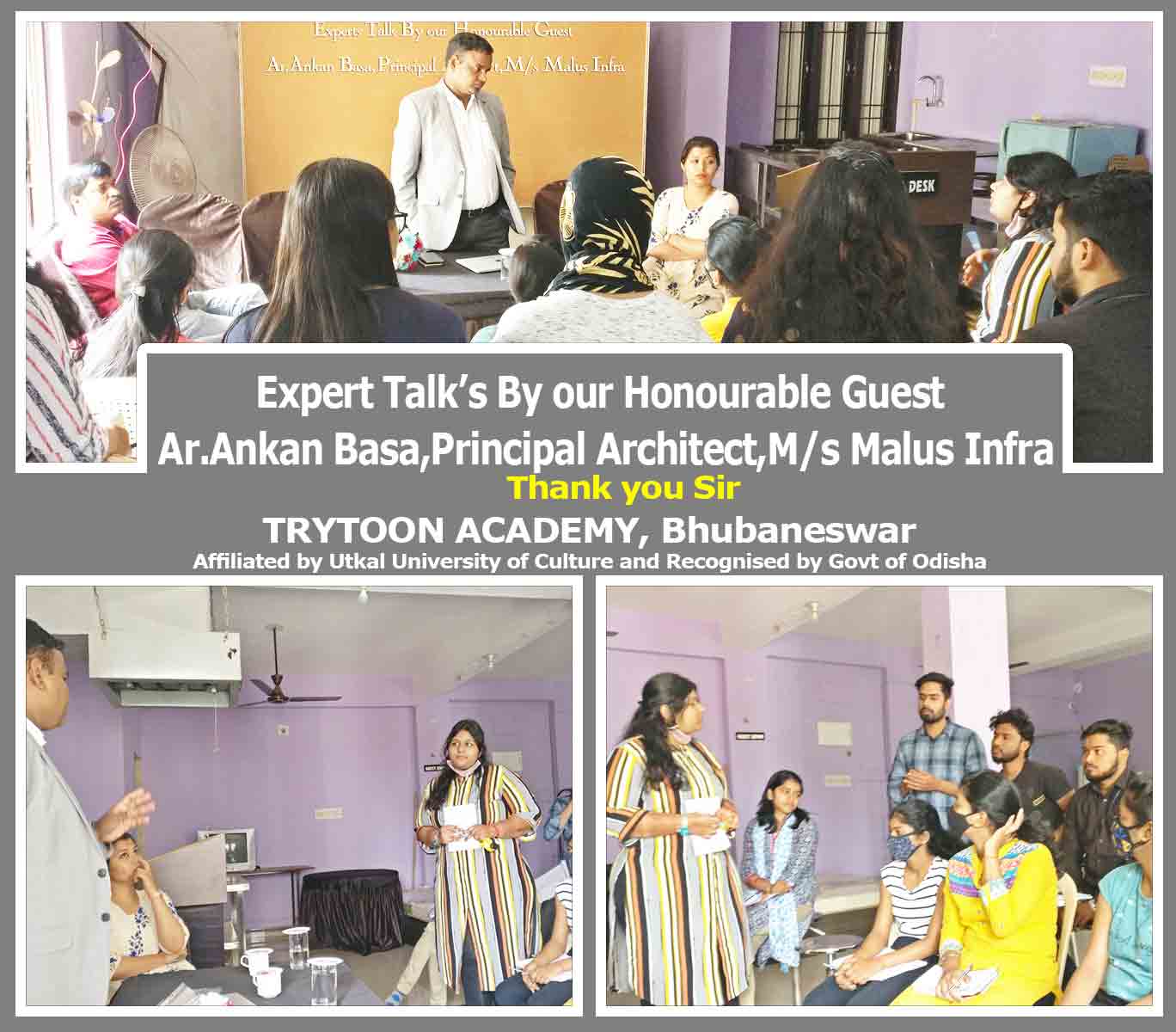 Expert talk by Ar.Ankan Basa on Professionalism
Ar.Ankan Basa Graduated in Architecture from Biju pattnaik university of Technology, Rourkela,Odisha in 2010, having 9 years of architectural design and project management experience. Ar. Ankan Kumar Basa founded Malus Infra in 2015, and is Managing Partner and Principle Architect at Malus Infra, where he takes on the design and supervision of substantive, high-end, and experimental projects.He has successfully led large, diverse, multi-disciplined design teams through all project phases He believes strongly in the direct relationship between human behavior and the environment. He strives to create environments in which the users will not only function but also thrive.
Today, the use of interior design software is greatly encouraged and learning how to use it has become a part of interior design education's curriculum today. Presentations can now be seen virtually with walkthroughs possible, all on a computer screen. Presentations are important because they allow you and your client to experiment with different layouts, design options and colour schemes before taking final decisions.
Professionalism -A paid occupation, especially one that involves prolonged training and a formal qualification.
Professionalism…in a word – it's an attitude. Professionalism is a determined effort by everyone in the workplace to give their best each and every day. Also, the way in which an individual conducts oneself in certain situations … the way you speak, the way you dress, the way you are organized, etc. It is setting standards and complying with them. Professionalism is the key to Career Success . Trust is the glue that holds the organization together.
THE IMPORTANCE OF PROFESSIONALISM… Professionalism is one of the biggest factors in your level of career success. It might sound dramatic, but it's true! This trait affects every aspect of how you do your job. A lack of professionalism can cost you a job or promotion, and it can even put you first in line for a layoff. "Your level of professionalism can make or break your career,". Professionalism is so important because it's an outward display of your attitude toward your job and your company. "It's a sign of loyalty, dependability and responsibility."
Professionalism in Interior Design –
❖ After an interior designer develops the design concepts of any project, it has to be communicated to their clients.
❖ The means of communication used to be strictly through drawing plans, working drawings, specifications tables, mood boards, etc… These were/are then presented in a professional manner to clientele and contractors.
Design Preliminaries: You are taught about meeting with your client and defining their design requirements. This is more of an in-depth dialogue period to know exactly what goes on in your client's mind as per what they need to be done.
VISUAL COMMUNICATNS:-EXACTLY WHAT THIS MEANS – USING YOUR MOOD BOARDS OR COMPUTER NTERFACE TO ENABLE CLIENTS TO FLOW WITH YOUR DESIGN IDEAS.
Site Measurements/Surveying: Teaches you how to do site measurements and record relevant details you will need during the development of your concept.
SCALING OF DRAWINGS: – STEP BY STEP DRAWINGS TO SHOW YOU HOW TO PRODUCE SCALED PLANS, ELEVATIONS AND SECTIONAL DRAWINGS IN A PROFESSIONAL MANNER.
Briefs and Specifications: – How to present clear and detailed instructions for contractors to enable them to easily interpret and produce your designs.
Contracts: You will learn how to deal as a professional interior designer with clients, suppliers and contractors
Pricing: Learn how to charge your clients for services rendered.
CHARACTERISTICS OF PROFESSIONALS
PROFESSIONAL APPEARANCE Professionals should always strive for a professional appearance, including appropriate attire and proper hygiene and grooming. Clothing should always be clean and ironed properly.
RELIABLE Professionals are dependable and keep their commitments. They do what they say they will do and don't overpromise. Professionals respond to colleagues and customers promptly and follow through on their commitments in a timely manner. Punctuality is a key aspect of this professional characteristic. It's always important to clarify any areas of uncertainty when dealing with customers or members of your team to ensure there are no mistaken assumptions or surprises.
ETHICAL BEHAVIOR Embodying professionalism also means to be committed to doing the right thing. Honesty, open disclosure and sincerity are all characteristics of ethical behavior. Many organizations include a commitment to ethical behavior in their code of conduct. Professionals can adopt a personal code of conduct and make the same commitment on an individual basis.
ORGANIZED A professional keeps their workspace neat and organized so that they can easily find items when they need them. All files and paperwork should be in place and, if they have to deliver a presentation, all materials should be ready well in advance so there are no unexpected delays.
ACCOUNTABLE Just as a professional accepts credit for having completed a task or achieved a goal, they also are accountable for their actions when they fail. They take responsibility for any mistakes that they make and take whatever steps necessary to resolve any consequences from mistakes. They are accountable and expect accountability from others.
SEPARATES PERSONAL AND PROFESSIONAL Professionals understand the importance of separating their personal lives from their professional lives. While professionals may experience the same challenges in their personal lives as others, they maintain a clear separation between their professional lives and workplace demeanor.
POSITIVE ATTITUDE Part of being a professional means maintaining a positive, can-do attitude while working. A positive attitude will improve a professional's overall performance and increase the likelihood of a positive outcome. It will also impact the behavior and performance of others, improving employee morale in the office.
EMOTIONAL CONTROL Emotional control is another key characteristic of professionalism. Professionals understand the importance of maintaining their composure and staying calm in all situations. By remaining calm, even during challenging moments, others can rely on them to be rational and of sound judgment.
EFFECTIVE TIME MANAGEMENT An employee who knows how to manage their time well is viewed by their peers as a professional. Some characteristics of time management abilities include showing up at the office on time in the morning, being on time for meetings and letting someone in the office know if they suspect that they might be late.
FOCUSED A professional is clear about their goals and understands what they need to accomplish to achieve them. They know how to stay focused on their work to maintain their productivity. Professionals recognize the importance of maintaining focus to improve the quality of their work and be as efficient as possible.
POISED Professionals should demonstrate poise, a calm and confident state of being. Being poised means maintaining a straight posture, making eye contact when communicating and helping establish a friendly and professional presence. Being poised means also staying calm during times of heightened pressure.
RESPECTFUL OF OTHERS Professionals always treat others with respect. They understand that though humor is appropriate in the workplace, they should always use it with respect to others. The only time that professionals engage in conversations about other people is if they are evaluating their performance and looking for constructive ways to improve their performance in the workplace.
STRONG COMMUNICATOR A professional must have strong communication skills. This means that they not only can effectively and efficiently convey messages to others but also that they can actively listen to and understand what others are telling them. By engaging in open and constructive communication with others, professionals can collaborate more effectively and accomplish a lot.
POSSESSES SOFT SKILLS Soft skills are personal attributes that allow someone to interact effectively with others. Soft skills include things like leadership, critical thinking, teamwork and people skills. Soft skills help professionals to behave courteously when addressing colleagues and managers, use the right language when communicating and respect the opinions of others.
Professionalism in Teamwork…
Take responsibility rather than making excuses or blaming each other
Collaborate on important issues
Value each other's background
Be positive about the team members and their work
Abrasive and Abusive Conduct…
➢Blaming, discrediting & discounting
➢ Threats
➢Yelling & shouting
➢Angry outbursts or loss of control
➢Silence
➢Glaring eye contact: "the look"
➢Abruptness
➢Snubbing or ignoring others
➢Insults and put downs
What is Individual Professionalism?
➢ An attitude
➢ Pride
➢Responsibility
➢ Being a team player
➢Honesty, trustworthiness, and loyalty
➢Openness to critique
➢Care about people & goals
➢ Accountability
➢Investment
Individual Professionalism Values…
➢Tolerance
➢Passion for excellence
➢Team cooperation & leadership
➢Competence
➢ Respect and trust
What is Professionalism as a Student?
➢Enjoying the total experience
➢ Building your entire career
➢Developing 'ownership' of your program
➢ Managing your time
➢Accepting responsibility
➢Having nonnegotiable values
➢Personal enthusiasm & style
Professionalism Issues in the Classroom…
➢ Proper language
➢ Tardiness & absenteeism
➢ Excessive talking
➢ Working on other assignments
➢ Keeping appointments
➢ Reading outside materials in class
➢ Sleeping in class
➢ Desiring special treatment
➢ Teamwork concerns
Lack of Professionalism in the Workplace…
➢ Leads to lack of motivation at work
➢ "I'm just here until something better comes along"
➢ Decline in job satisfaction
➢Leads to unethical acts in the company
➢Higher attrition rate (the action or process of gradually reducing the strength or effectiveness of someone or something). This keeps the organization's recruitment budget in use at all times, causing financial strain
➢ Lack of loyalty between management and employees
Recommended Posts
September 10, 2023