---
Honourable guest Vice-Chancellor of Utkal University of Culture Prof. (Dr.) Byomakesh Tripathy visited our college TRYTOON ACADEMY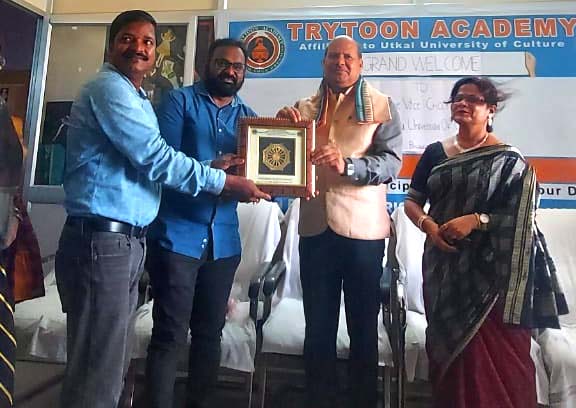 TRYTOON ACADEMY prestigiously grand Welcome to Honourable guest Vice-Chancellor of Utkal University of Culture Prof. (Dr.) Byomakesh Tripathy at our College campus TRYTOON ACADEMY in presence of Chairman Mr. Swadesh Muduli, Director Mr.Bindusagar Das,Director Mrs Bharatishree Das,Principal Mrs Priyadarshini Mishra with our Faculties Mrs.Nandita Archarya [Fashion Design] , Mr.Bikas Jena [Fashion Design],Mrs.Tanushree Sarkar [Fashion Design], Ar.Ankita Mishra [Interior Design],Ar.Ruturaj Biswal [Interior Design] with our all the Fashion design , Interior Design and Hotel Management Students.
Prof. Byomakesh Tripathy, the professor of the Department of History in Indira Gandhi National Tribal University, Amarkantak in Madhya Pradesh has been appointed as the Vice Chancellor of the Utkal University of Culture in Bhubaneswar, Odisha. He has published over 65 papers and completed over five projects under UGC, ICHR and Ministry of Culture.
Honourable Vice-Chancellor of Utkal University of Culture Prof. (Dr.) Byomakesh Tripathy has welcome by our college and felicitated by our Principal Mrs.Priyadaershini Mishra,Chairman Swadesh Muduli and Director Mr.Bindusagar Das.He has interacted with our students about their study Fashion design course,Interior design course and Hotel management course he has given very important tips for their study to balance both theory and practical exposer and he has appreciated to our college education system having qualitative deliver of education. Principal Madam Mrs.Priyadarshini Mishra described our 360 degree education system how to provide more and more practical exposer to our professional curriculum like regularly seminar and workshop, regularly industrial visit for fashion design ,interior design and hotel management students, college house completion, expert talks, creative activities, fashion shows, traditional activities like celebration of different pujas, fresher's party, farewell party, independent days ,republic days etc.
Trytoon Academy is one of leading college in Bhubaneswar odisha Affiliated to Utkal University of culture and recognised by Government of odisha provide Fashion design courses,Interior design courses,Hotel management courses.
Utkal University of Culture is a public University in Bhubaneswar, Odisha dedicated for research, teaching and education in the field of odisha culture provide affiliation different private colleges for Fashion design,Interior design Hotel management courses.
Utkal University of culture came into existence by virtue of an ordinance promulgated on the 9 June, 1999, which was later replaced by "Utkal University of culture Act 1999''. It was established as a teaching-cum-affiliating university. It was set up in order to engage itself to preserve, promote, propagate and protect the richness of our cultural values by way of making substantive accomplishment through study, research, documentation and continuing education. The University was recognized by the University Grants Commission (UGC) on 1 December, 1999, under Section 2(f) of the U.G.C Act, 1956. It has also been accredited by the Association of India Universities (AIU) since 1 April 2000.
Recommended Posts
September 16, 2023