---
SHINING CALENDAR 2022 Launched by Shining group of company and Utkal kanika galleria mall management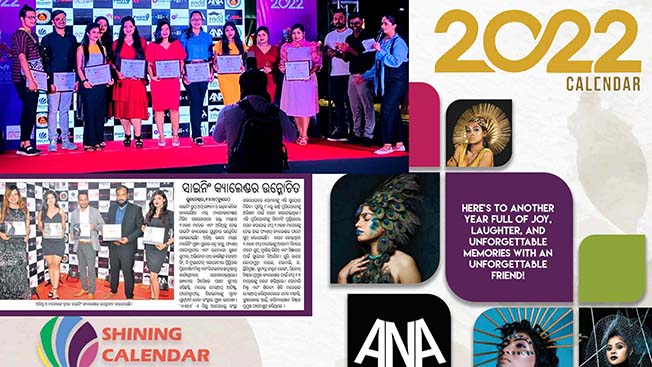 The most leading event organization Shining group of company and Utkal kanika galleria mall management have organized calendar launching by our most talents Fashion Design students Trytoon Academy and NIFT Bhubaneswar,Odisha.In presense of Utkal kanika galleria mall head Dulal Chandra sahoo ,fashion photographer Kushan Kumar ,Actor and Singer Shoam singh,Pricnipal of Trytoon Academy Mrs Priyadarshini Mishra and Fashion design students , fashion Model and The honorable guest it has launched the most successful event.
The purpose of launching event was giving opportunities for various Fashion design students and makeup artist students show their talent by work in a team,so that they will find new profile to get success. In this completion in first round 140 above candidates are applied for audition which 80 candidates are chosen for second round audition so in three process of audition finally sixteen model are chosen for calendar photo shoot.
Thanks for arranging that type of event which giving big opportunities for new students,We proud for our TRYTOONIAN Fashion design students have successfully participate for launching SHINING CALENDAR 2022
THANK FOR PARTICIPATE & CONGRATULATION FOR SUCEES ONE STEP.
PROUD TO BE TRYTOONIAN…
Khushi jain – Bachelor Degree in Fashion Design
Sonusmita Rout – Bachelor Degree in Fashion Design
Urmi Arpita Mohanty – Bachelor Degree in Fashion Design
Saloni Prusty – Bachelor Degree in Fashion Design
Manisha Priyadarshini – Bachelor Degree in Fashion Design
Diptimayee Jena – Bachelor Degree in Fashion Design
Reetika khamari – Bachelor Degree in Fashion Design
Eshita Lanka – Bachelor Degree in Fashion Design
Kiran Barik – Bachelor Degree in Fashion Design
Priyanka Das – Bachelor Degree in Fashion Design
K Sonali dora – Diploma in Fashion Design
Soyam Prava Kunda – Master Degree in Fashion Design
Recommended Posts
September 16, 2023