---
Social Event with the Blind school students donate apparels made by our Fashion designing and Interior designing students
TRYTOON ACADEMY have organized social Event with the Blind school students in presence of State Commissioner for Persons with Disabilities, Odisha Smt.Sulochana Dash , Chairman Mr.Swadesh Muduli and Director Mr.Bindu sagar Das donate apparels made by our Fashion designing and Interior designing students before Ganesh Puja celebration as a token of love from the institutional end.
TRYTOON ACADEMY
Date: 31/08/2019
It was overwhelmingly ecstatic and a proud moment for the Trytoon Academy to visit the blind children at Odissa Association for the Blind children by our honorable State Commissioner for Persons with Disabilities, Smt Sulochana Dash, whose inspirational speech motivated the disabilities students as well as Trytoon Academy students. The Trytoon Academy students had a blessed time playing, chatting, singing, and dancing with these especially abled children. They shared gifts n confectioneries specially those T-shirts which were designed by the Trytoon Academy students, this made their day and gave them a satisfaction and peace into their inner soul.
This auspicious meet inspired the Trytoon Academy to keep up the good work going in the days to come. Trytoon Academy would continue to stretch our hands and hearts towards the upliftment .This very day of philanthropic activity produced a determination and fortitude to face life's difficulties and challenges that come across the journey of mortal lives. Those visually challenged kids silently taught all that they need more of vision than a purpose less sight.
Recommended Posts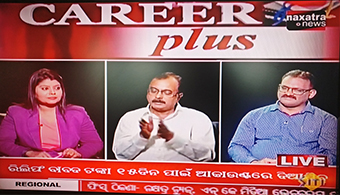 February 6, 2019
February 6, 2019